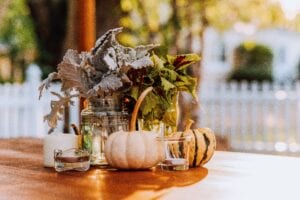 Imagine … standing in the midst of tall pine trees outside a 3 story home in the Sandia Mountains just east of Albuquerque. The weather is perfect; a very slight breeze moves the tulle and silk flower arrangements ever so slightly which garnishes the archway that was so beautifully designed for this wedding. My youngest daughter and husband Norm come down the stairs that lead out the front door. Hana's bridal train flowing over the stairs behind her. Her future husband stood by the archway with the minister, looking dapper in his cowboy hat, vest, black jeans, and boots. Hana and Jamie's immediate family sit on folding chairs to gather for this special day. Several family members and friends even show up on Zoom!
As many have experienced in the last several months, we are doing things differently. We are gathering in the open air. We are practicing social distancing. We are compassionately considering others needs for health and well being. And we are figuring it out!
And then there's our son Keith, who blew out his knee playing a friendly game of touch football with coworkers on Labor Day. I drove him to an urgent care center and even though I was masked and didn't have a fever, I was not permitted to go in to see the doctor with him (he is 23 after all). After 6 weeks he was scheduled for surgery. Again, I was able to drop him off and pick him up but not wait inside with him while the surgery prep to recovery took place. He is doing well now (as of this writing — 6 days post surgery). He has some pain at the knee and surrounding muscles. They reconstructed his ACL, fixed a torn meniscus and put some cadaver bone pieces at the end of his femur. At this point he is requiring very little medication. He is taking lots of vitamins and supplements. He is resting and I get to wait on him, fix him meals, bring him water and make sure he is getting up and walking around with his crutches! It's fun being "Mom."
One more October story … My husband, Norm, has been on the leadership team since last October for the NM Men's Wellness Retreat. It's held every year in northern NM and usually well over 70 men participate at Ghost Ranch. This year they organized a hybrid meeting. Some men were on location and the rest on Zoom. Everyone got their own room and bathroom and some of the men arrived in their travel trailers/motor homes so social distancing was practiced.
The biggest social distancing challenges were overcome because of the numbers of men that were participating from their home via Zoom. Norm was the advocate for total communication. Captioning or subtitles were provided during all the Zoom sessions. Face masks with a clear plastic front were provided for all those who participated in person so lip-reading was recognized. It was a great conference on wholeness and vulnerability.
Oh! And I had a birthday in October.
All in all, a great month. We are enjoying being present.