In my attempt to figure out sourdough bread, I went to YouTube and looked at a few creators to help me in my search. I found this one by Patrick Ryan. This was a simple starter recipe that I've made many times. In this recipe, I took notes as he spoke and here are the results! This recipe takes about 24 hours from start to finish. I'd suggest if you do this, you begin baking by 1pm. The bread will proof overnight in the refrigerator and bake the next day.
Sourdough Bread Recipe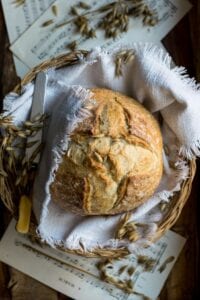 Makes 2 loaves – Bread freezes well
Ingredients:
800 gm Artesian organic flour

460 ml (gm) water

10 gm salt

320 gm sourdough starter
Directions:
Mix all in a bowl

Dump on a table — build up the strength of the dough by kneading. It will be sticky to begin with. Try not to add much more flour (use a scraper to get any sticking dough off the counter) (my first batch was not as sticky as the video).

Ready to proof when "window pane effect" is present — that is, that it does not tear. You can see the fibers fo the flour sticking together when the dough is pulled.  (8-10 minutes — I did for about 20 at the end making sure I stretched the dough). You can oil you hands slightly to text it so dough does not stick to hands.

Form dough into a nice ball. Stretch it and tuck under the ball. lightly powder a bowl and put it into the bowl to proof (about 3 hours).

When it has risen about 1 1/2 times the size take it out and "punch" it down.

Cut in half and work each separately. Folding in 1/2 and turning several times. Tuck the top under again and put into a floured proofing "basket" or pyrex container filled with a tea towel that is powdered with flour.  (Again you can add a little oil to your hands to handle the dough easier). Pop dough into the containers with the bottom side up. Add a little flour to the top of the dough and let it proof.Should be able to press on top and it bounces back with no fear of collapsing. You know it is over-proofed if you press on the top and it feels like its going to fall.

Can proof it over-night in the refrigerator.

Take it out of refrigerator.

Preheat oven 450º

Put a roasting pan to into the oven to heat (that will hold water).

Take bread out of proofing basket and turn onto a lightly floured pan.

* Note: If using Pyrex dish, lightly cover the lid and turn dough out onto the lid — remove the tea cloth, lightly flour the bread.

Score the top of the bread. Don't be afraid to go deep.  

Cook 25 minutes with the top on. (This will keep moisture in the bread) *Note: "basket" dough — add water to the roasting dish in the oven. See the steam!  Put dough and it's pan into the oven and bake for 30-35 minutes.

Take out and cool on racks until cool (1-2 hours).
I have used this recipe many times and adjusted the type of flour, the times, turns, and pans I've used. I have also used my cast iron skillet to bake this breat. Putting the skillet in the oven, heating the oven to 500, when it gets to temperature removing the skillet to put the bread dough into it for baking on a piece of parchment paper. I then turn the oven down to 450 degrees and bake with a pan of water in the oven for 30-35 minutes.
Reach out if you'd like to talk baking sourdough bread.