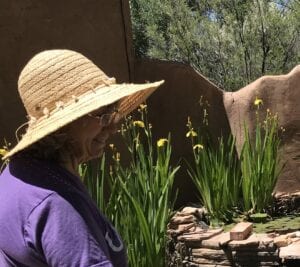 Thanks to my coach, I am learning and experiencing the value of planting feeling GOOD feelings!  
Many of us are practicing social distancing. I am choosing to use this time to enJOY doing the things I might not otherwise give myself the time or permission to do.
A homeopathic, MD asked me a unique question years ago that still serves me today. That question:  Are you better in-doors or out-of-doors? I had never thought about "feeling better" outside but I DO! I realize that I'm always best: outside!
What would it feel like to have an exercise for feeling good? One thing I do to get outside is to use my creativity. If it's freezing outside and windy and I do not want to be in the cold windy weather, I'll find a sunny window to sit beside and read a great book. I'm pretty close to being outside. I also have a hoop house in my yard that I use to start seedlings. I love to sit outside in the hoop house when it's raining or windy and enjoy being "outside." Always a feel-good feeling. 
Some questions for you:  
Are you better when you are inside or outside?

What is the feel-good feeling you notice when you are there? Please take a minute to be with the feeling, where do you notice it, your heart chakra, solar plexus?

What are some times it would serve you to intentionally go to that feeling?
Want to have some fun with this?  Try this on … practice experiencing that feel-good feeling intentionally each time you do an activity … maybe something like:
When you raise the blinds in the morning and see the sun

When you get my first cup of coffee

When you open the door and let the dog out — breathe in the fresh air

When you feel grateful for some of the things you have in your life
You get the gist of it.
Let me know how you are using this! Contact me for more suggestions.