Pre-Biotics & Pro-Biotics & Food, Oh My!
We are so excited about all the wonderful things we're growing in the garden, some of which we are using to make fermented foods which are excellent for your gut.
Watch the video to see what we're up to and the awesome recipes we're making.
Want to make one of the recipes? Check them out below!
Avocado, Cucumber, and Mango Salad
Avocado, Cucumber, and Mango Salad

Adapted from Elizabeth Rider
A great summer salad. Full of great oil and fiber which those probiotics love. You will too!
Delicious by itself or a-top your favorite greens for a more traditional salad. You may want to add some cooked quinoa or a few tablespoons of raw pumpkin seeds to add more fiber and protein.
Makes about 5 cups
Total prep time about 10 minutes
Honey Lime Vinaigrette
Mix the following in this order into the bowl the salad will be served in. (You'll notice that if you put the honey in the tablespoon right after you measure the olive oil, the honey slides right out!)
3 T fresh lime juice (make sure there are no seeds. I leave the pulp but you can remove it if you prefer
3 T extra virgin olive oil
1 T honey
1/4 t fine sea salt
Prepare the fruit
Wash all the fruit in plain water or even a 10% salt solution (best fruit wash) before peeling and cutting it up, especially if the fruit is not organic. You do not want any of the possible pesticides/herbicides to get on your knife/hands and cling to the fruit that you are making into salad.
Mix these ingredients together well in the serving bowl.
1 ripe mango (peeled and chopped in 1/2" pieces)
1 ripe avocado (peeled and chopped in 1/2" pieces)
1 large cucumber (peeled or you can leave some of the peel on — I like to use an apple peeler and peel it length-wise leaving some strips of green). Cut in half length-wise and remove the seeds. Chop the cucumber to resemble half-moons
3 T  fresh chopped cilantro
1 T fresh chopped mint
Gently toss these fruit and mint together with the vinaigrette and serve.  Best stored in a glass airtight container in the refrigerator.
Sauerkraut Recipe
Sauerkraut Recipe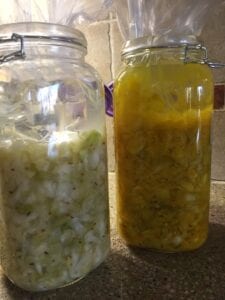 Adapted from Pro Home Cooks on YouTube
Ingredients:
1  – 5 pound cabbage (You can cut the cabbage with a large knife or I used a mandolin (because I have one) so that the chopping of the cabbage was uniform.)
3 Tbsp non iodized salt (I used Sea Salt though you can also use canning salt. The concern with the iodized salt is that it may discolor the cabbage)
I used a potato peeler and "peeled" some carrots into the slaw to add a bit of color
Directions:
Put the cabbage and carrot peelings in a large container (I used my largest bowl — best something that's not metal unless it's stainless steel because again, it can discolor the cabbage).
Add the salt and mix it by hand. You can squeeze the cabbage as you go. Within about 10 minutes the cabbage started to expel its liquid.
Place the cabbage in a container, crock or large jar. Make sure that the cabbage is fully submerged in its' liquid. I like using a glass jar so I can watch the bubbles as they form over time.
Half fill a non BPA plastic gallon bag with water. Some sources say to add salt to the bag (not sure why unless it might leak) and place the bag over the cabbage and it's brine.
Leave the fermenting Kraut at room temperature for several weeks. You can taste the kraut every day or so and when it's the flavor you like, cover it and refrigerate it. Most sources find at a temperature of between 65 and 75 degrees Fahrenheit, it should be ready to eat within 2 weeks.  You can leave it out in room temperature longer or shorter periods of time, depending on the time of year and your environment.
*Note: The lactobacillus probiotics in the kraut will continue to survive in the refrigerator. 
Pickled Eggs
Pickled Eggs

Prepare ahead — at least one quart, wide mouthed jar with a lid. Make sure it is clean without any chips on the rim.
Hard boil at least 12 eggs
Peel the eggs and place them into the quart jar
Add  on top of the eggs —

    1T non-iodized salt
    1t dried basil
    1T dried oregano
    4 garlic cloves chopped

  (experiment with other spices, maybe even some black pepper)

Fill the jar (so the eggs are completely covered) with non-chlorinated water (I use reverse osmosis (RO) water)
Put the lid on the jar and refrigerate for up to 6 months